2020 was no joke. Companies had to adapt to the 'new normal' of working from home. We thought this year would be better. It's only February, so there is time for the climb back up the hill of normality. But in the meantime, how do you keep yourself and your business from going stale? How do you stay positive and creative during the winter? I have been there and honestly, the one thing that makes me happy (besides reading a good novel) is staying creative. Reinventing content on the various sites that I mange and learning new skills.
Here are a few tips and suggestions that may lift up your spirits. It is a good time to make that website shiny and new again. Also, if you have any tips and suggestions, please add them to the comments!
1. Take inventory
Staying organised is not an easy thing to do. Maybe you have had your site since 2005 and you think it's pretty rad. You may like that retro feel, and maybe your customers are comfortable with the layout. But getting with the times may actually help user experience and bring new customers or readers to your site.
The first step is to take inventory and do a thorough assessment of your site. Pull out the Excel spreadsheet and start mapping out the pages you have. You may find that some information is outdated, maybe even riddled with broken links and misinformation. This will actually work against and will harm any SEO boosting efforts. Yes, it may be a pain to go through and click on each link to see if it's broken, but you can use some free tools like Dead Link Checker to ease that pain. I mean, seriously, what else are you doing right now?
Once you are done with that task, you can start thinking about refreshing your site, especially if you're running a small or medium business. One content management system that is both robust and user friendly is WordPress. The reason I have been using it for 15 years now is because it's easy to use and there are endless, mostly free, plugins that, when integrated, can make your website standout with endless layout options and optimal functionality.
2. Start a blog
If you own a business, practice or firm, you are probably an expert in your field. Use that to your advantage. The best way to boost your visibility, if you have a business, is to use your knowledge to attract customers. You don't have to be Hemingway or Dickens. Okay, but like Hemingway, keep it short and to the point.
If you manage your site on CPanel, you can easily add a blog and connect it to your website. This blog you're reading right now is a subdomain of MyWebsiteFinder.net. I also bought the domain contentio.tech and linked it redirects you to the blog.
You can make the blog stand out as it's own separate site and different look from your site, but keeping in mind that the branding should match your business. Check out some of the top WordPress blog themes that look professional and stylish.
The point of your 'business' blog is to show off your expertise. Let's say you own a hardware store, you can probably post three or four times a week with tips and product reviews. You might even go a little crazy and start video blogging, maybe start a podcast inviting plumbers and carpenters to the show. You're on your way to expanding your empire. And the great thing is, you can easily integrate multimedia, such as video and audio, to your blog.
3. Take a course in web design
There are thousands of free tutorials on YouTube that can help you learn or improve your web design skills. It doesn't matter if you are a beginner or have been doing this for 20 years, technology changes as fast as the second hand on your watch. One really good course site is Udemy and you will find hundreds of quality web design courses that are as little as 10 bucks a course.
4. Create a podcast
Everybody is doing it. Now that lockdown has minimised contact with other humans, the next best thing is to broadcast your feels, or again, your expertise in your field. It can be a fun and creative outlet and a way to connect with the world. The only downside is that it can get to be an expensive hobby once you start thinking about equipment and software.
I have consulted many businesses on podcast production. The first thing you will need is decent audio equipment. No one will want to listen to bad audio. One of the best mics in the business that won't break the bank is the Go Mic from Samson. You should also invest in a pop filter and mic stand. Here is a really good kit that I bought and you can screw the mic and mount the mic stand to the table without any drilling. It also comes with the pop filter.
As far as software goes, if you have a Mac, you should also have GarageBand and iMovie. I use Garage Band to edit audio and iMovie to edit any video I post on Youtube. These apps are free if you have a MacBook or iPad. If you have a PC, you can use the open source software OpenShot. And for audio, I recommend Audacity. Of course, if you want to spend the big bucks, you can always go the Adobe CS route with Audition or Premiere.
I will do a podcast tutorial soon and give tips on how to get your stuff on iTunes and Spotify. In WordPress, you can upload your audio and video can be embedded from a Youtube or Vimeo link.
5. Start a marketing campaign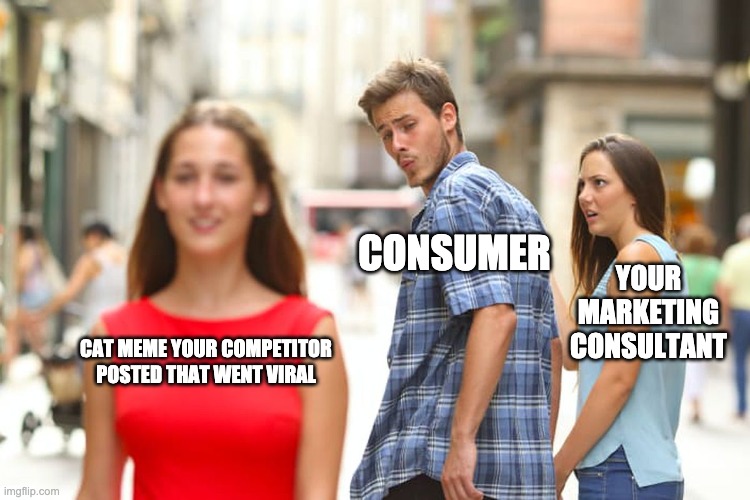 I'm going to be upfront and honest. Marketing is my least favourite thing when it comes to creative business and content managing. It may be the journalist in me that recoils every time I have to think of 'selling' a brand or or business. But throughout my almost 20 years in the business, I have come to appreciate it and not think of it as the enemy of an honest business plan.
And if you are an expert in your field, love your company or want people to read your blog, then selling yourself is more about telling people all the cool fun things you do, or sell, or write about. I look at cat memes all day and sometimes I see businesses posting creative ones. All it takes is a meme generator like imgflip and posting something on your social media doesn't seem so tedious. Just make sure the meme doesn't float away too much from your brand and message.
It's all about thinking outside the box and having fun. It's trial and error. The key is not to offend (unless that's your game) and to engage people. It's snowing in a lot of places today around the world. I'm going back to the hardware store example. Maybe your name is Kitty and you were handed down your grandfather's hardware store. How do you attract attention from the big box stores? Maybe you make a TikTok video of yourself shovelling some snow with some nice shovels you have in stock. And you ask other people in your community to post their snow videos and post them on Twitter with a hashtag and tag your business. The best video get a free shovel. You have the tools and the creativity. There is no excuse not to put something out there.
If you have other tips, please share them in the comments section. I'm sorry I can't offer a free shovel for the best one.